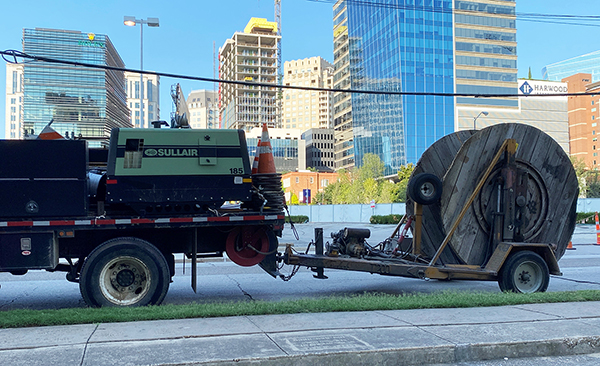 Compressed air is everywhere. Portable diesel air compressors bring compressed air wherever it is needed: plantside, roadside, refineryside and many other jobsites.
This month's feature application is using portable air compressors in fiber optic cable installation. For many years, optical fiber cables have been installed in pipes/ducts for telecommunications applications.
Often you'll see large poly conduit spools on roadsides, highways and interstates all over the country. Contractors use compressed air to blow rope or line through the conduit and "fish" the fiber cable back through. Overall, the blowing method, which requires compressed air, is preferred over the traditional pulling method due to savings in manpower and installation time. It also results in improved installation efficiency, especially in longer ducts with multiple bends and undulations.
The ideal portable air compressors for fiber optic work are the 185 cfm or 375 – 400 cfm and 200 psi with aftercooled air.
Find your local authorized Sullair distributor today to learn more about this application and which compressor is right for you.