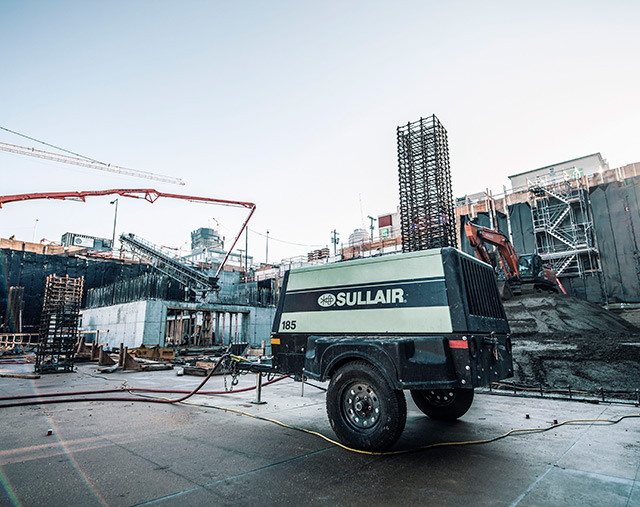 From the smallest jobs to the biggest projects, Sullair has the portable diesel air compressor to get the job done – whether construction, winterizing irrigation systems or performing utility work, among many other applications.
Sullair portable air compressors provide you with:
Long Runtimes – With improved fuel efficiency for up to 10 hours of runtime, there's no need to stop midday to refuel. Sullair portable diesel air compressors are ready to put in a full day of work, just like you.
Easy Serviceability – Serviceability is key in how we design our equipment. Many Sullair portable air compressors now include doors on all four sides, making access to key components quick and easy. We realize there's no time for downtime.
Easy Maneuverability  – Sullair compressors feature a compact design for easier maneuverability – whether on the jobsite or behind a truck.
An Intuitive Controller  – Our controller, which is on the curbside to help keep the operator safe, features an LCD graphic display showing all key machine operating parameters. Quickly and easily understand the status of your compressor.
Renowned Sullair Air End – At the heart of the compressors is a Sullair air end, continuing the tradition of reliable durability. A reputation we've built over the past 55 years, meaning you can rely on your compressor, day in and day out.