Portable diesel air compressors are destined to get dirty. They go from rental yard to jobsite, or jobsite to jobsite and sit outside in the elements. To keep the equipment in good working order, portable air compressors should be cleaned on a regular basis. With the ongoing COVID-19 pandemic, not only is cleaning your equipment necessary but so is sanitizing.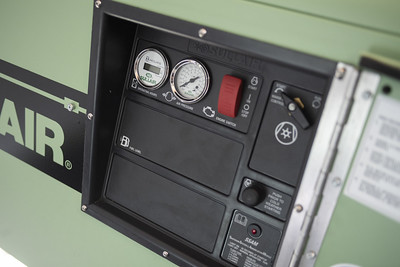 Cleaning is defined as the physical removal of dirt, dust or debris from surfaces by scrubbing, washing or rinsing. Sanitizing is treating a cleaned surface to effectively destroy microorganisms of public health significance.
When cleaning a portable air compressor, it's important to not only clean the exterior of the machine but also several of the interior components – especially if you're working in a dirty or dusty environment. Applications such as general farming, cotton farming and media blasting are most susceptible to materials getting lodged in the coolers and chambers. Be sure to check dust collectors and clean them as needed. Also check and clean the coolers and engine chambers if you're working in dirty environments.
Pay close attention to also cleaning and sanitizing high-touch surface areas on the portable air compressor such as buttons, controls, latches, knobs, gauges, access doors, handles, the drawbar and valves. We suggest cleaning and sanitizing these daily or each time a different operator and/or renter uses the equipment.
Please follow CDC and local guidelines to ensure you are properly sanitizing your equipment between users. These tips will help ensure your green machine stays a safe and clean machine.