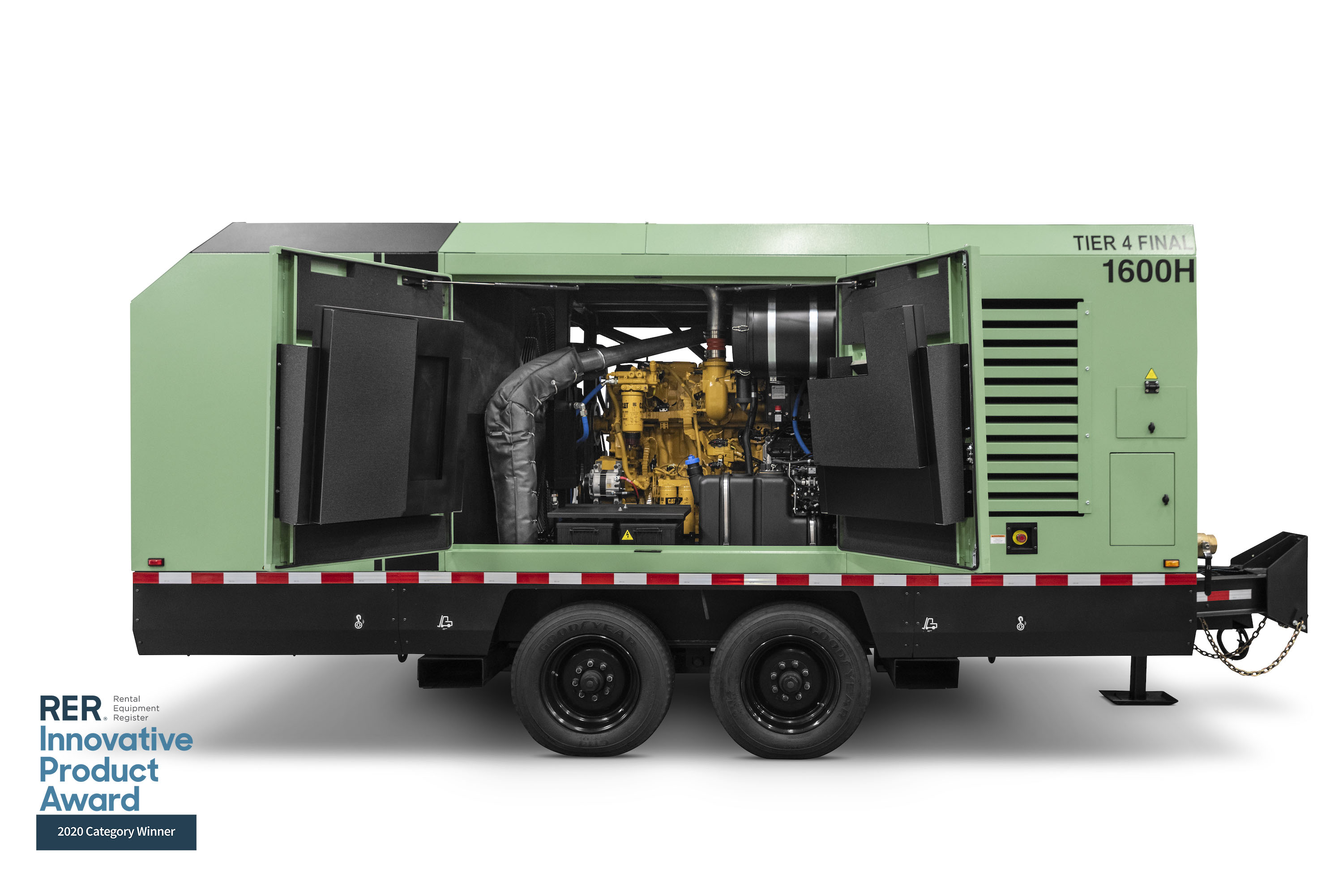 Rental Equipment Register (RER) magazine has selected the Sullair Next Generation 1600H Tier 4 Final portable rotary screw air compressor as the Compressors/Air Tools equipment category winner in its 2020 Innovative Product Awards.
RER has awarded its Innovative Product Awards for nearly 20 years. The 2020 awards program showcases the most innovative products introduced between August 1, 2019 and July 31, 2020. Entries were judged in their category based on innovation, product design, safety, fulfillment of a need in the rental market and influence on the industry by a panel of judges representing the equipment rental industry. The prestigious award program honors innovative products in 16 equipment categories and, from those, Gold, Silver and Bronze winners were awarded by the panel to the top products.
"We are honored the Next Generation 1600H was recognized by RER, an industry-leading rental publication," said Jerel Cole, Senior Product Manager at Sullair. "We continue to implement voice of customer feedback to improve our overall package design. For the rental industry, this means enhanced usability, easier maintenance and increased operator safety. The improved package design checks all of these boxes, in addition to minimizing impacts on the environment."
In March 2020, Sullair introduced its redesigned, next generation 1600H Tier 4 Final portable diesel air compressor, which was enhanced based on direct voice of customer feedback. The improved package design includes multiple service doors with robust, push-to-close latches, helping increase worker safety by preventing unintended door closure. The new service door design also eliminates the center post (from the previous generation model), allowing easier access to all maintenance items.
Aftercooled and filtered models now include a next-generation condensate management system, with no condensate drain required. The system eliminates the need for the operator to collect and dispose of condensate, benefitting both the operator from a time, cost and convenience factor, and the environment.
These enhancements are in addition to a 20% smaller and 2,500-pound lighter design for easier maneuverability, storage and transit; an easy-operation external fuel valve to extend runtime beyond 10 hours; and a 7" Sullair touchscreen controller providing easy access to all operating parameters.
Sullair will be featured in the April 2021 issue of RER as well as in the publication's newsletter and online micro-site.
Sullair was previously honored with RER Innovative Product Awards in 2016, with the 400HH Tier 4 Final portable rotary screw air compressor winning the compressors/air tools category, and in 2018, with the OFD1550 oil free portable air compressor winning the Bronze award overall.