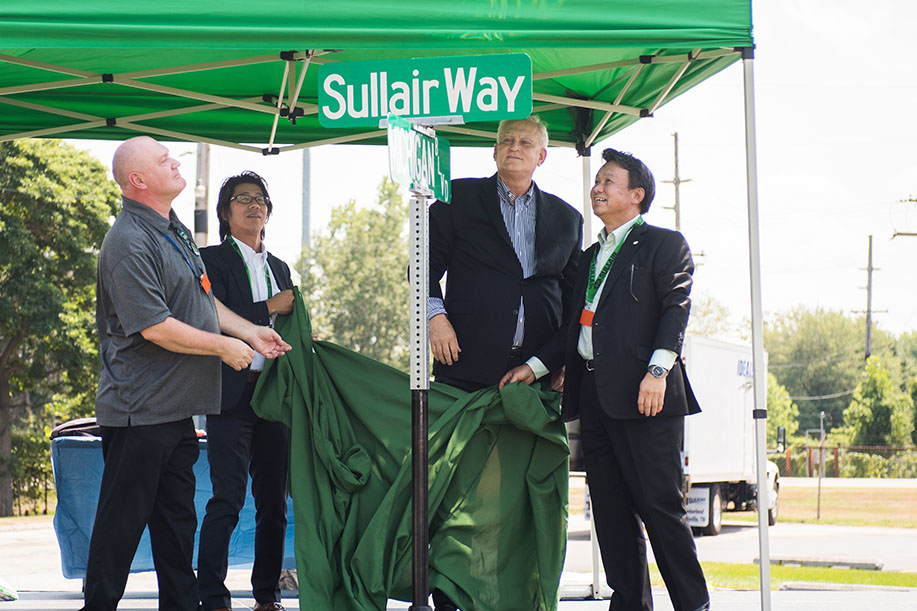 In partnership with the City of Michigan City, Sullair, an industry leader in innovative compressed air solutions since 1965, announced its address is changing for only the third time in its 53-year history. In cooperation with Michigan City, the entry road from Michigan Boulevard to the Sullair campus has been named Sullair Way. Effective immediately, the Sullair Michigan City campus address becomes 1 Sullair Way, Michigan City, Indiana 46360.
"We are proud of our longstanding relationship with Sullair and now Hitachi," said Michigan City Mayor Ron Meer at an employee celebration attended by nearly 1,200 Sullair and Hitachi employees and family members. "A great deal of work went into this, and we are proud to recognize the impact Sullair continues to have on our community."
The ceremonial announcement of the new Sullair address occurred August 3rd during a celebration held on the Sullair campus recognizing the one year anniversary of Sullair becoming A Hitachi Group Company.  Mayor Meer was joined by Hitachi Ltd. Executive Vice President Masakazu "Mike" Aoki, Sullair President and Chief Executive Officer Jack Carlson and Sullair Chief Operating Officer Charlie Takeuchi to unveil the new street sign marking the intersection of Sullair Way and Michigan Blvd.
Sullair established its presence in Michigan City in 1965 at 500 North Carroll Avenue. In 1969, Sullair moved to its current campus at 3700 East Michigan Boulevard in Michigan City, now recognized as 1 Sullair Way.
Reflecting on the occasion and recognition, Charlie Takeuchi, Chief Operating Officer and Executive Vice President of Sullair, added, "Hitachi is very keen on expanding the Sullair business in Michigan City. We look forward to continuing to positively impact the local community. In the past year alone, we have added more than 110 new employees, and we look forward to continuing to work closely with the City as we grow."