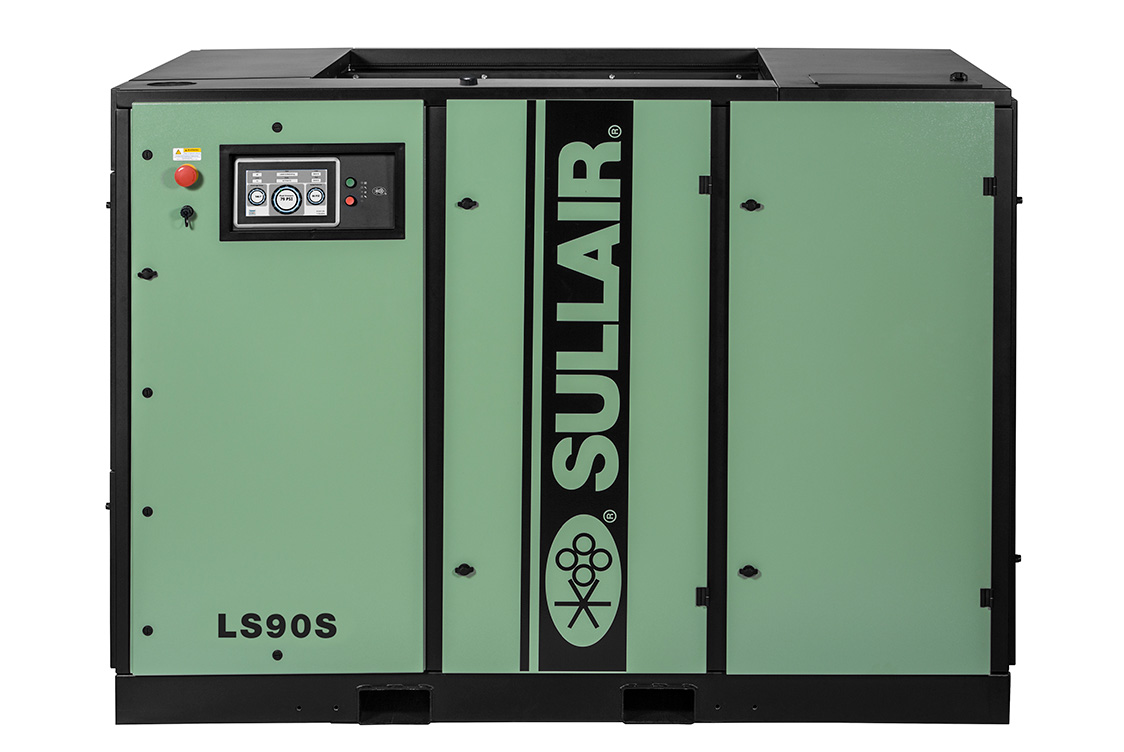 Contact: David Andrews
Sullair, LLC
david.andrews@sullair.com
HANNOVER, GERMANY – April 24, 2017 – Sullair, an industry leader in innovative compressed air solutions since 1965, unveiled its new LS Series Air Compressor at ComVac today.  
"The LS Series is one of the most exciting launches in Sullair history," said Jon Hilberg, Vice President – Commercial & Industrial Air Solutions.  "No detail has been overlooked in making this a world-class performance air compressor."  
The LS Series of Compressors is the first to utilize a new, patent-pending air end design.  The air end takes proven bearing technology and combines it with a new, larger rotor profile – resulting in the most energy-efficient single stage compressor Sullair has ever offered.  Additionally, the new air end features all internal porting meaning fewer components are needed – which helps increase Sullair durability.
"Sullair compressors, and specifically the air ends, have been described as bulletproof by our customers," according to John Randall, Vice President – Global Engineering.  "Our goal in developing this new air end was to maintain that legacy of durability, while increasing our efficiency.  Now, Sullair provides customers the opportunity to combine a long-lasting compressor with the benefit of lower operating costs over its lifetime."
Beyond the new, proprietary air end, the LS Series features a patent-pending package design, in which all components are specially designed, engineered and manufactured to perform at the highest levels.
Sullair recognizes the efficiency of an air compressor is only one part of the equation.  Because plant air demand fluctuates it is critical that an air compressor has the ability to adapt quickly to these changes.  The Sullair LS Series is the first to offer Electronic Spiral Valve technology in all of these new models.
"The Electronic Spiral Valve represents the most cost-effective capacity control option available today," according to Brit Thielemann, Senior Product Manager – Commercial & Industrial Air Solutions.  "We have taken our decades of experience in spiral valve technology and significantly upgraded it with the use of electronic controls.  This new technology maintains a very tight one PSI control band – effectively matching compressor supply to demand.  Put simply, the Electronic Spiral Valve helps ensure our customers are not spending money making air which they don't need."
Proving compressors don't need to be complicated to operate, the LS Series is the first to feature the new 10" Sullair Touch Screen (STS) Controller.  The Sullair Touch Screen Controller brings intuitive operation to the compressor with menu-driven screens allowing access to all information at the touch of a finger.  Additionally, the functionality behind the Sullair Touch Screen Controller enables customers to monitor and analyze all key compressor operational information.
Recognizing customers are not always within view of their compressors, the LS Series is the first to offer Sullair AirLinx™ Remote Monitoring.  AirLinx provides customers the opportunity to monitor all operational parameters in real time via computer, tablet or phone.   Besides the ability to monitor operations, AirLinx may also be customized to provide automatic alerts when an unexpected reading or fault occurs.  This speed-to-alert helps users minimize unplanned downtime. 
Beyond the new features offered, the Sullair LS Series now includes numerous features as standard, including a full enclosure, TEFC motor, Wye-Delta starter, phase monitor and zero loss drain.  Additionally, the LS Series provides numerous options to help customers meet their specific compressor needs.
Available in horsepower ranges from 125-150 hp (90 to 110 kW), the LS 90-110 compressors are capable of providing pressures from 110 to 175 psi (7.6 to 12 bar).
Visit Sullair in Hall 26, Stand D50 at ComVac Hannover Messe to learn more about the new LS Series of air compressors.