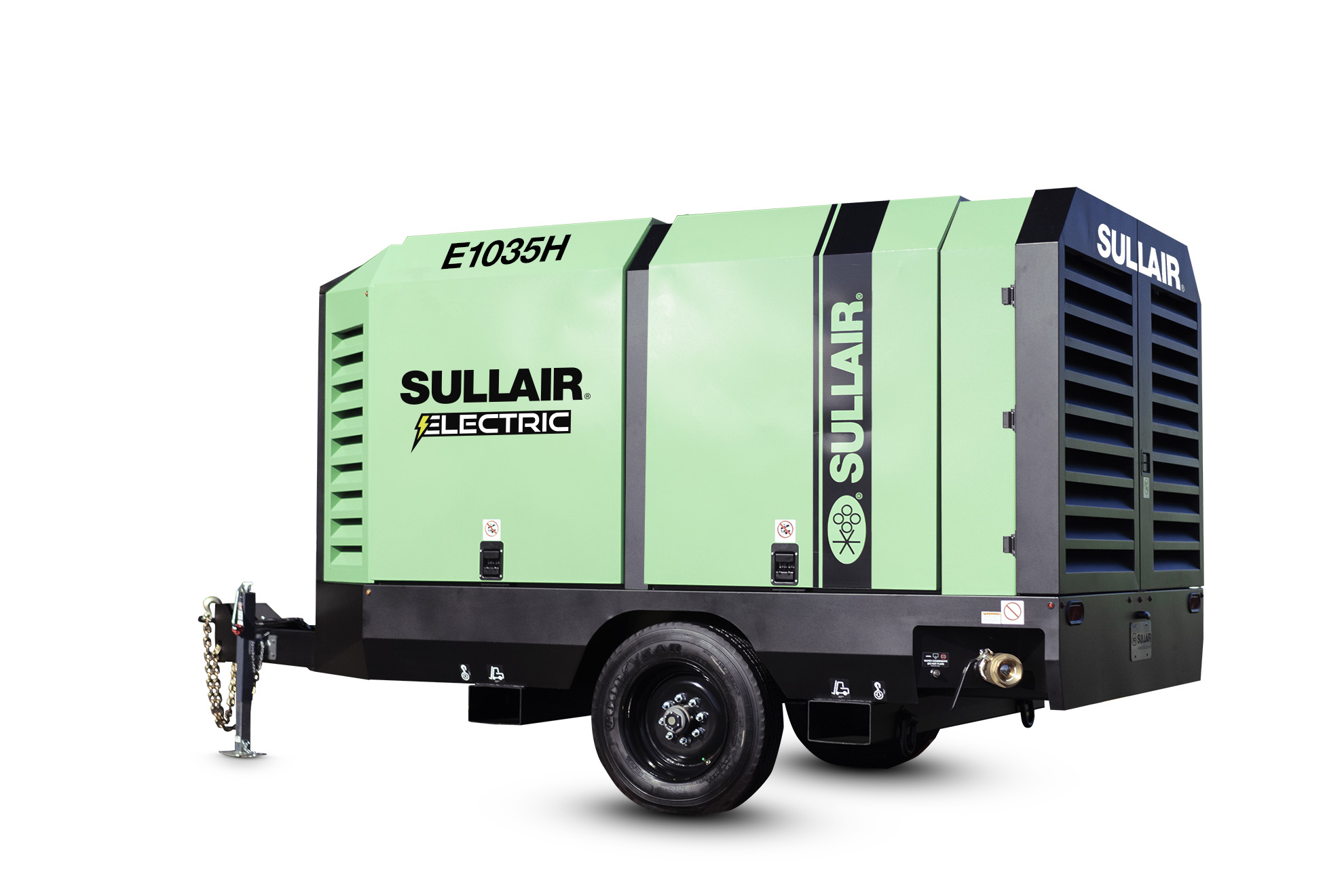 MICHIGAN CITY, IND. (October 19, 2023) — Rental Magazine, a nationally recognized magazine serving rental equipment professionals, has selected the Sullair E1035H portable electric air compressor as one of the Editor's Choice Award winners for 2023. The annual award recognizes products that enhance the efficiency of rental companies and their customers as well as streamlines their operations. Winning products are selected by nomination, innovation, dependability, and audience engagement at forconstructionpros.com.
The E1035H is a real game changer in the portable air compressor market, said Jerel Cole, Senior Product Manager for Hitachi Global Air Power. We focused on the needs of our customers in the rental industry and built the E1035H new from the ground up. We wanted a solution that would deliver the same air power as its diesel compressor counterparts, but in an emission-less, electric package that our customers are asking for. Being recognized with the Editor's Choice Award is a reflection of our customer-centric design and we are honored to receive this recognition.
Introduced in March 2023 and engineered for rental companies and their customers, the Sullair E1035H is the first in a long line of planned environmentally-forward compressed air solutions from Hitachi Global Air Power. Customer-centric, safety-minded features include camlock electrical connections and air discharge safely spaced from the operator. Patent-pending swing out coolers make cooler cleaning simple and thorough and AirLinx®, the Hitachi Global Air Power remote monitoring platform, is included for added peace of mind. Rounding out the convenience features is the Sullair Touch Screen controller providing intuitive operation of all compressor parameters. Finally, the E1035H features the innovative and Sullair-exclusive Electronic Spiral Valve Technology that automatically varies flow to meet current demand while maximizing energy efficiency — even in harsh environments and altitude.
Applications for the E1035H include mining, utilities, construction, back-up air, and more. And, because of its quieter operation than typical diesel air compressors, the E1035H can be used longer and during off hours.
View the announcement in Rental Magazine.
About Hitachi Global Air Power US, LLC
We build the machines that power industry. We are Hitachi Global Air Power, a leading global industrial compressed air manufacturer. Headquartered in Michigan City, Indiana, our compressed air solutions power manufacturing operations all around the globe; from food and beverage, to pharmaceuticals and computer chips. Our portable compressors provide the air power to build roads and bridges, lay pipelines and aid in oil and gas mining and production.
As part of Hitachi Industrial Equipment Systems Co., Ltd., Hitachi Global Air Power operates ISO 9001 certified factories in Michigan City, Indiana and Suzhou, China, and sales offices strategically located in Europe, Australia, Southeast Asia, and South and Latin America. Through brands Hitachi, Sullair, and Champion (Australia), our machines have provided legendary reliability, durability, and performance for more than 57 years.
Our global network of engineering and quality experts are building next generation, highly efficient and environment-forward compressed air solutions in direct response to customer need.
About Hitachi, Ltd.
Hitachi drives Social Innovation Business, creating a sustainable society through the use of data and technology. We solve customers' and society's challenges with Lumada solutions leveraging IT, OT (Operational Technology) and products. Hitachi operates under the business structure of "Digital Systems & Services" — supporting our customers' digital transformation; "Green Energy & Mobility" — contributing to a decarbonized society through energy and railway systems, and "Connective Industries" — connecting products through digital technology to provide solutions in various industries. Driven by Digital, Green, and Innovation, we aim for growth through co-creation with our customers. The company's consolidated revenues for fiscal year 2022 (ended March 31, 2023) totaled 10,881.1 billion yen, with 696 consolidated subsidiaries and approximately 320,000 employees worldwide. For more information on Hitachi, please visit https://www.hitachi.com.