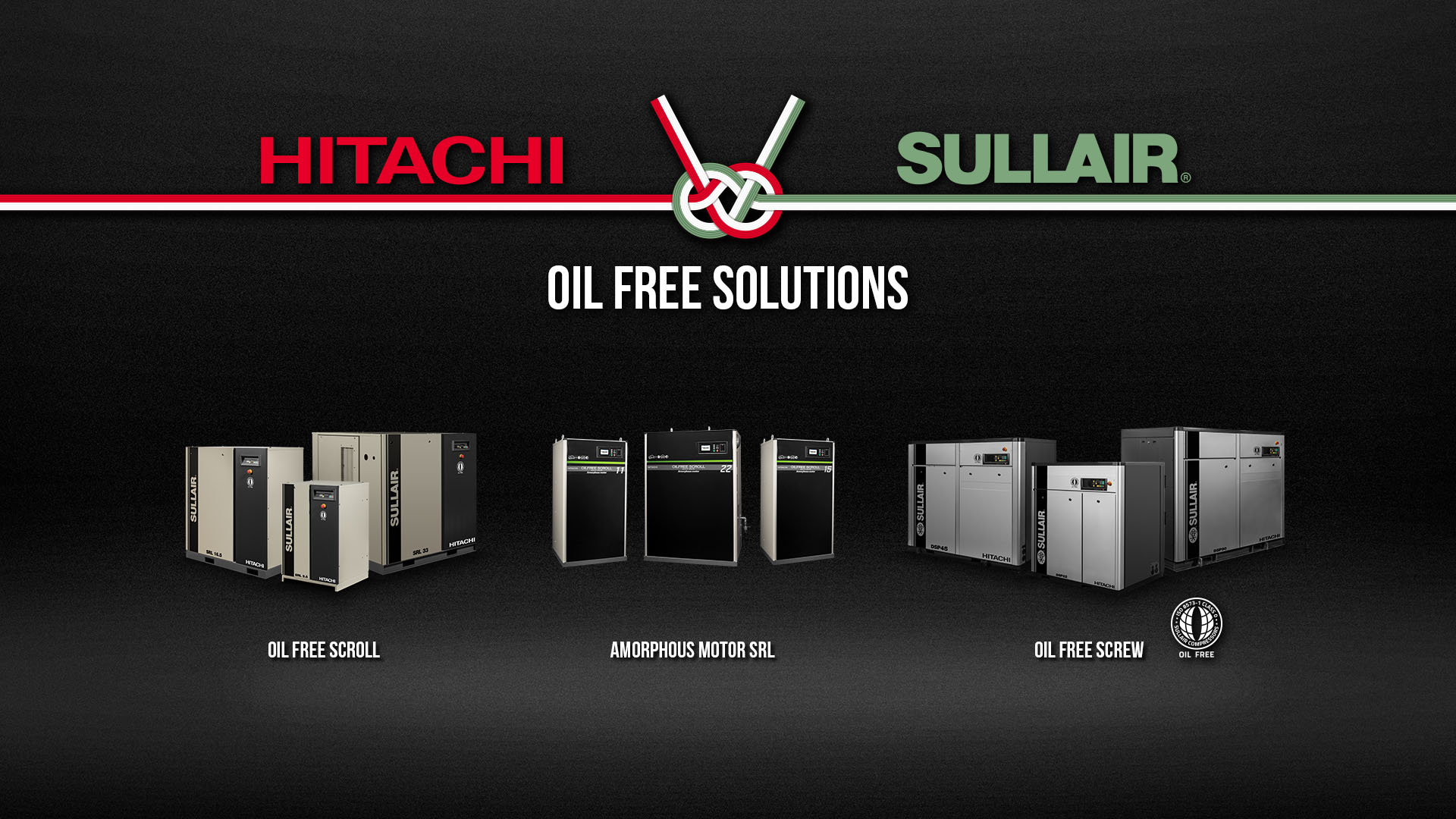 Sullair, an industry leader in innovative compressed air solutions since 1965, and Hitachi will jointly display their global oil free and oil flooded compressor solutions at ComVac Hannover Messe 2019. Under the guidance of Hitachi Industrial Equipment Systems, the global portfolio includes oil flooded rotary screw compressors; oil free compressor options including rotary screw, scroll and centrifugal; piston compressors; and OEM options.
"Since becoming A Hitachi Group Company in 2017, Sullair and Hitachi have combined the strengths of both compressor companies to provide high efficiency, high quality and optimized air solutions satisfying our customers' operating needs," said Victor Arnold, Vice President of Sales and Marketing, EMEA at Sullair. "Sullair and Hitachi represent a global portfolio of industrial compressors renowned for their durability and performance."
Hitachi will feature its award-winning Amorphous Motor SRL, the industry's first oil free scroll compressor with an integrated amorphous motor. The scroll compressor is known for its quiet operation and 100% oil free air. Now available in multiplex configurations up to 30 kW, the Amorphous Motor SRL provides extreme flexibility to customers in terms of both installation and mobility. The integrated amorphous motor enables a tremendous reduction in footprint. The installation area needed for a 22 kW model is 42% smaller than previous generation scroll compressors. 
In addition to the expanded SRL line, Hitachi will also showcase its Bebicon and Air Punch compressor technologies.
Sullair will highlight its newly-expanded and award-winning Sullair LS Series lubricated rotary screw air compressor line. The LS Series is the first to utilize a new, patent-pending air end design and feature Electronic Spiral Valve technology – helping customers match supply to demand helping to reduce energy usage. The LS Series is currently available in 60 Hz configurations up to 160 kW; 50 Hz CE models up to 110 kW will be available summer 2019.
Sullair will also showcase its ShopTek® compressor line. ShopTek models are the most widely available Sullair models, available in 50 Hz and 60 Hz configurations around the world, with CE versions up to 110 kW.
Additionally, Sullair and Hitachi will showcase a variety of components for OEM integration, including:
•    Rotary screw air and gas ends (single and two-stage options available) 
•    Reciprocating compressors (Hitachi LE Series) - available with or without tank 
•    Oil free options including Bebicon and scroll heads
To learn more, visit Sullair and Hitachi in Hall 26, Stand C22 at ComVac Hannover Messe, or visit www.sullair.com or https://www.hitachi-ies.co.jp/ to learn more about our latest product offerings.