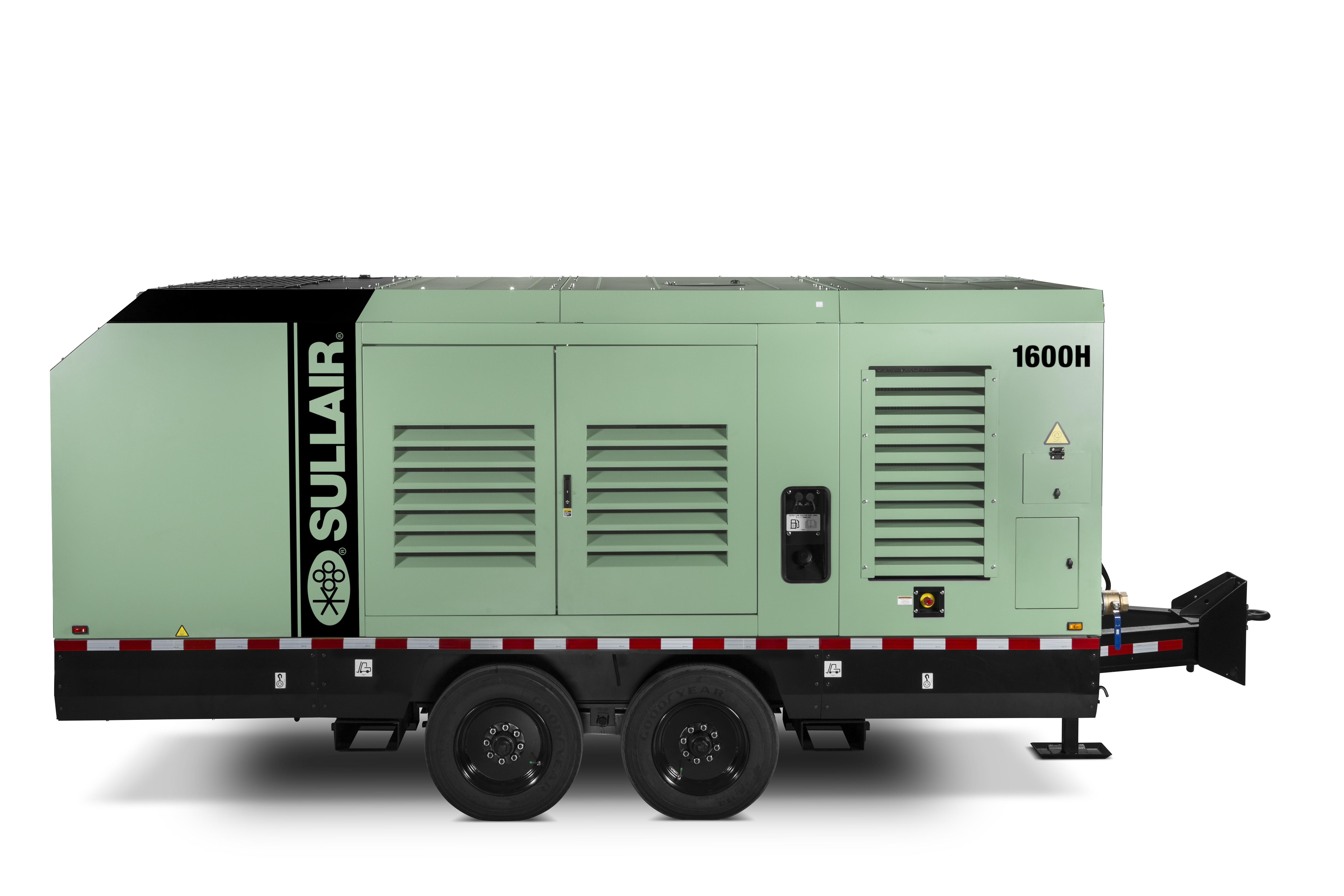 Rental, a nationally recognized magazine serving equipment rental professionals for the past 39 years, has selected the Sullair 1600H Tier 4 Final portable air compressor as a recipient of one of its 2017 Editor's Choice Awards.
The Sullair 1600H was chosen as a winner for the 2017 Editor's Choice Awards based on several factors including innovation, utility for the rental market, and audience engagement online at ForConstructionPros.com/Rental.
Introduced to the general public at ConExpo 2017 in Las Vegas, the Sullair 1600H Tier 4 Final marks a triumphant return to the big air category. Powered by the legendary Sullair 25 Series air end and a reliable Caterpillar C15 engine, the 1600H provides versatile operation – delivering 1600 cfm at 100/150psi. Compared to previous models, the Sullair 1600H is 20 percent smaller and 2,500 pounds lighter making for easier maneuverability, storage, handling and transit. Improved usability was also key to the redesign. A durable seven-inch touch screen controller provides easy access to all compressor and engine operation information. Plus, an easy-operation valve provides simple connection to external diesel fuel supplies – extending jobsite run time beyond the standard 10 hours provided by the onboard fuel source.
Customer response to the new Sullair 1600H has been strong. "Our customers have been very attracted to the modern design," according to Russell Warner, VP Rental & Infrastructure Sales for Sullair. "The touch screen controller makes jobsite operation simple and easy – with all operating parameters readily available. And the open design of the unit with access to all service items makes maintenance significantly easier – which helps extend the life of the compressor."
"We wanted to launch a product that embodies our brand promise: Reliability, Durability and Performance," Friedmar Rumpel, Global VP of Product and Program Management for Sullair said. "The Sullair team listened closely to our customers and developed a portable compressor which we feel is the best we have ever offered. The Rental Editor's Choice Award is an affirmation of our team's efforts to employ their passion and expertise to create value for our customers."
"We're excited to present the 2017 Editor's Choice Award winners. As always, this year's winning products represent the best of what leading manufacturers have to offer for today's rental inventories," says Jenny Lescohier, editor of Rental. "Products chosen for this honor are those that construction professionals have shown active interest in, so it follows they'll be looking for them at their preferred rental source. We're pleased to offer this useful insight to our readers."
The editorial teams from Rental and ForConstructionPros.com/Rental compiled web page views from products featured online at ForConstructionPros.com/Rental and then considered those that received the most interest against a set of criteria to determine the winners. The result is the 2017 Editor's Choice Awards, a listing of the industry's favored products. Additional information on award recipients can be found in the October/November issue of Rental magazine and online at ForConstructionPros.com/Rental.