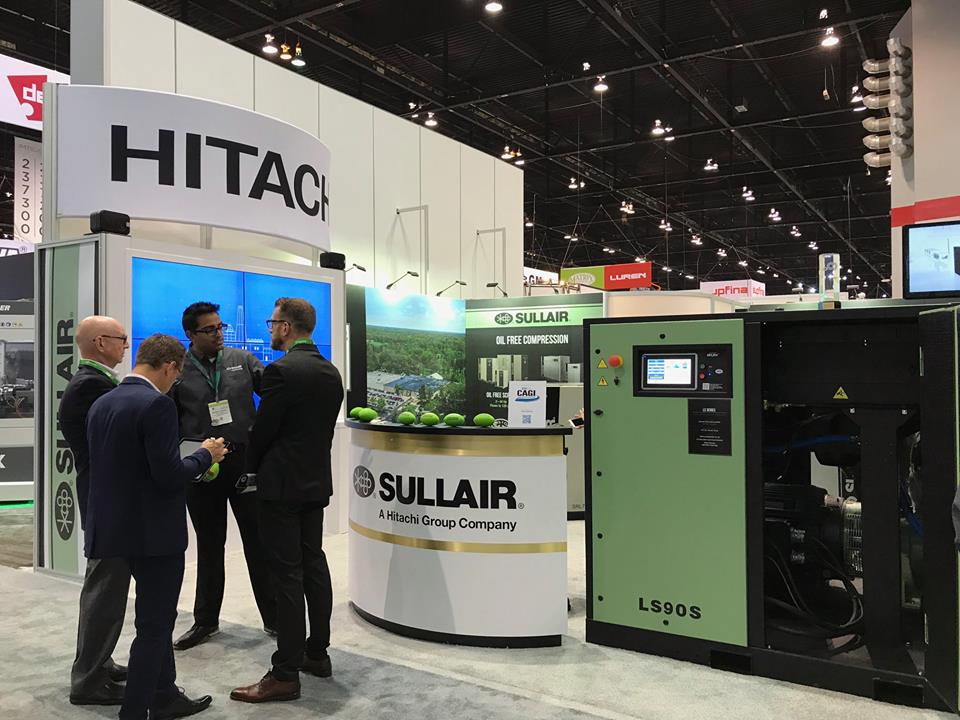 Sullair, an industry leader in innovative compressed air solutions since 1965, will showcase its LS Series rotary screw air compressors at the International Manufacturing Technology Show (IMTS) taking place September 10-15, 2018 in Chicago. 
The LS Series – first introduced in 2017 – is currently available in horsepower ranges from 125-150 hp (90-110 kW) and can provide pressures from 110-175 psi (7.6-12 bar). The LS Series will soon expand to the next horsepower range delivering up to 200 hp (160 kW) and 200 psi (13.8 bar).
"We are very proud of the LS Series," said Brit Thielemann, Senior Product Manager – Commercial & Industrial Air Solutions at Sullair. "The LS90-110 has been well received in the market, so we are excited to soon expand our offerings to the next horsepower range."
The LS Series of compressors is the first to utilize a patent‐pending air end design. The air end takes proven bearing technology and combines it with a new, larger rotor profile – resulting in the most energy‐efficient single stage compressor Sullair has ever offered. Additionally, the new air end features all internal porting meaning fewer components are needed, which helps increase Sullair durability.
Long known for its stationary compressor offerings, the Sullair LS Series combines durability and reliability, while adding unprecedented ease of use and performance. The LS Series was designed with this promise in mind, and the compressor has many innovative features that make it stand out.
The LS Series offers AirLinx® Remote Monitoring. AirLinx allows customers to monitor all operational parameters in real time via computer, tablet or smartphone. AirLinx may also be customized to provide automatic alerts when an unexpected reading or fault occurs. This speed‐to‐alert helps users minimize unplanned downtime in their operations.
The LS Series also includes Electronic Spiral Valve technology to quickly adapt to fluctuating air demand in manufacturing facilities. 
"The Electronic Spiral Valve represents the most cost‐effective capacity control option available today," said Thielemann. "We have taken our decades of experience in spiral valve technology and significantly upgraded it with the use of electronic controls. This new technology maintains a very tight one PSI control band – effectively matching compressor supply to demand. Put simply, the Electronic Spiral Valve helps ensure our customers are not spending money making air which they don't need."
Other features included in the Sullair LS Series are a full enclosure, TEFC motor, Wye‐Delta starter, phase monitor and zero loss drain. Additionally, the LS Series provides numerous options to help customers meet their specific compressor needs.
To learn more about the LS Series and other Sullair product offerings, visit booth #237470 at IMTS 2018 or visit Sullair.com.