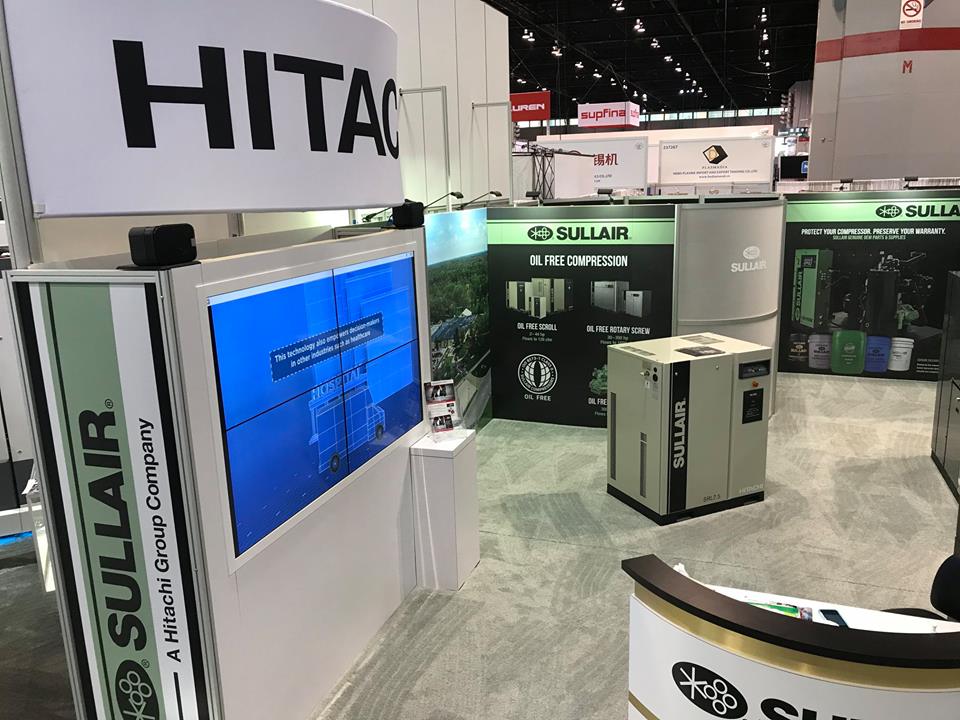 Sullair, an industry leader in innovative compressed air solutions since 1965, will showcase its expanded oil free compressor line at the International Manufacturing Technology Show (IMTS) taking place September 10-15, 2018 in Chicago. Following its acquisition by Hitachi in 2017, Sullair has combined the strength of both compressor companies to rapidly expand its oil free product offerings. 
Built on Hitachi engineering, the SRL Series and DSP Series are the latest oil free offerings by Sullair. Both the DSP and SRL Series compressors are certified under the ISO standard – ISO 8573-1 – for Class 0 oil free air, making them suitable for a variety of applications requiring oil free air, such as food and beverage manufacturing, robotics, pharmaceuticals, automotive and high-technology manufacturing.
"Both compressors are ideal for applications where Class 0 oil free air is required," said Friedmar Rumpel, Global Vice President of Product and Program Management at Sullair. "In many operations, compressed air comes into contact with items in the manufacturing process. Oil free compressors eliminate potential contamination because no oil or lubricant is introduced into the air compression process."
The DSP Series is built on a Hitachi engineered package design based on more than 50 years of oil free rotary screw experience. As the newest joint stationary compressor offered between Sullair and Hitachi, the DSP Series features rotary screw dependability with the innovative air end design and variable speed technology offerings to help manage energy efficiency. With offerings from 30-300 hp (22-240 kW) at 125 psig, the DSP Series is suitable for applications requiring completely oil free air.
The DSP also offers a variable speed drive (VSD) that features a patented No Inlet Valve design. The VSD adjusts the speed of the motor to match the compressed air supply needed. This design provides the user with maximum energy efficiency and operating consistency. 
"The energy costs associated with running an air compressor can quickly exceed the initial purchase cost," said Rumpel. "The VSD allows our customers to be able to match compressor production capacity to their facility needs."
Also built on Hitachi engineering, the SRL Series of oil free scroll air compressors is ideal for smaller shops and operations requiring oil free air. The SRL Series is powered by scroll compression technology, which allows continuous air movement from the suction port through the discharge port. Scroll compression provides pulsation free delivery of compressed air from 2-44 hp (1.5-33 kW) at 120-145 psig.
The SRL Series features an extremely quiet design suitable for indoor applications with noise levels as low as 48 dBA and does not require a separate sound attenuated room. The SRL may be installed at the point of use, resulting in lower installation and piping costs.
To learn more about the DSP and SRL Series, or other Sullair oil free products, visit booth #237470 at IMTS 2018 or visit Sullair.com.