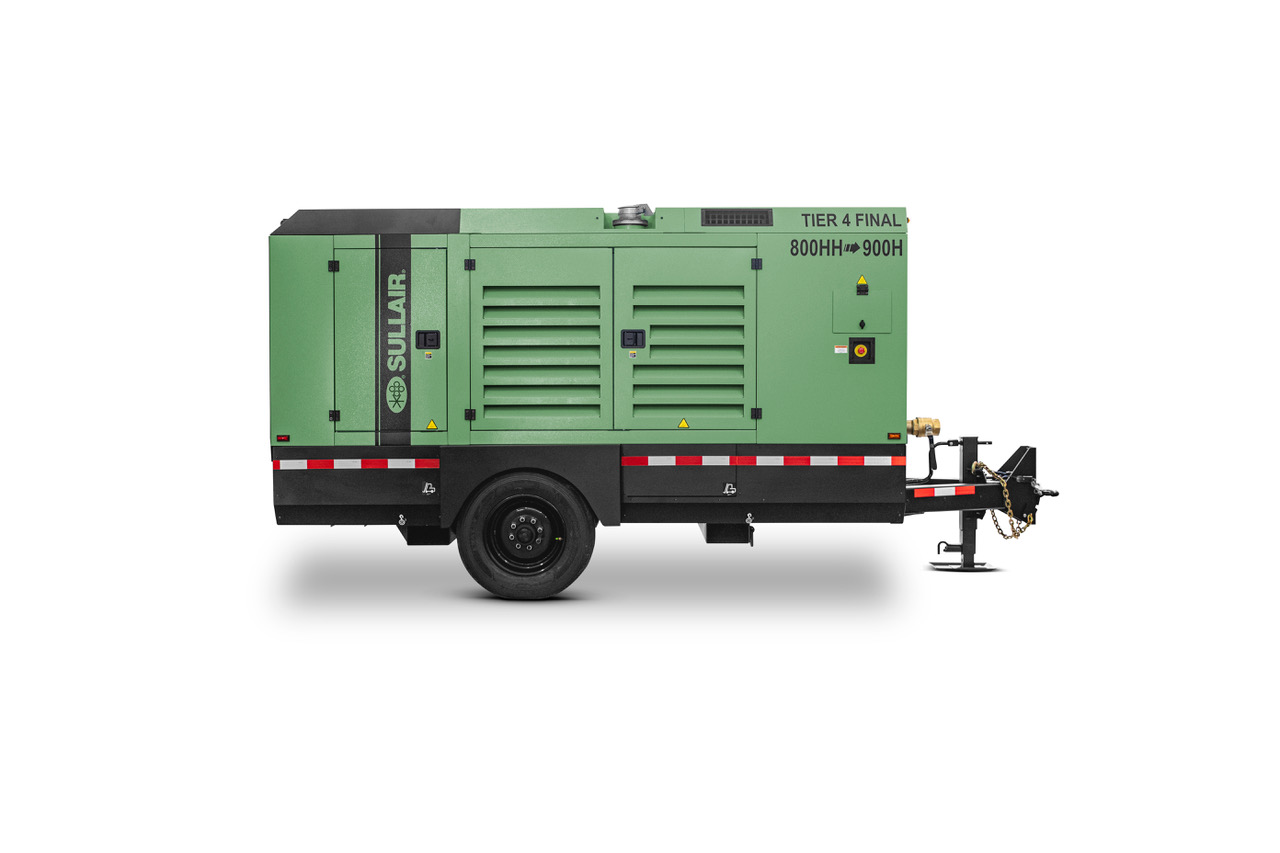 MICHIGAN CITY, IND. (June 24, 2022) — Rental Equipment Register (RER), a nationally recognized magazine serving rental equipment professionals, has selected the Sullair Mid-Range Series of Tier 4 Final portable air compressors as one of the Innovative Product Award winners for 2022.
The 2022 RER Innovative Product Awards recognizes excellence and innovation in new product development for the rental equipment category. Winning products, selected by a panel of judges, represent product innovations that enhance ease of use or improve work efficiency for contractors and other rental professionals. The Sullair Mid-Range Series of Tier 4 Final portable air compressors won in the "Compressor/Air Tools" category.
"The Mid-Range Series is truly a new generation of compressed air solutions," said Jerel Cole, Senior Product Manager at Sullair. "These compressors are uniquely flexible; one compressor can be used for a wide range of applications and they perform well in cold weather and high-altitude environments. For the rental market in particular, this maximizes the utilization rate and ROI for the machine allowing owners to consolidate their fleet."
Introduced to the market in February 2021, the Sullair Mid-Range Series is the most efficient and flexible portable air compressor to date, complete with the innovative and Sullair-exclusive Electronic Spiral Valve Technology, a first in Sullair portable compressors. This technology automatically varies flow to meet the current need maximizing fuel efficiency and enabling the series to cover the jobs of up to nine compressors. Applications include pipeline work, construction, abrasive blasting, fiber optics installation, shipyards, and more.
The series' two offerings include the 800HH/900H model delivering 800 – 900 cfm at 150 – 200 psi and the 920H/1100 model delivering 920  – 1100 cfm at 100 – 150 psi. Customers have their choice of two diesel engine options: a Caterpillar 7.1L or Perkins 1206J. The CAT 7.1L diesel engine replaces the previous generation's 9-liter engine to help provide best-in-class fuel efficiency. The smaller-sized engine reduces the compressor's overall weight, making towing and maneuverability easier and minimizing impacts to the environment.
The Sullair Mid-Range Series of Tier 4 Final portable air compressors won the Rental magazine Editor's Choice Award in August 2021. RER Innovation Award recipients, including Sullair, are featured in the June 2022 issue of RER magazine and online here.
Learn more about the Sullair Mid-Range Series of Tier 4 Final portable air compressors.
About Sullair
Since 1965, Sullair has developed and manufactured air compressors with proven reliability and wear-free durability. Sullair is globally recognized as a leading manufacturer of air compressors for use in manufacturing, oil and gas operations, food processing, construction and more. Sullair has manufacturing capabilities in Michigan City, Indiana; Suzhou, China; and a JV (IHI-Sullair) based in Suzhou. Sullair is a Hitachi Group Company.
About Hitachi, Ltd.
Hitachi drives Social Innovation Business, creating a sustainable society with data and technology. We will solve customers' and society's challenges with Lumada solutions leveraging IT, OT (Operational Technology) and products, under the business structure of Digital Systems & Services, Green Energy & Mobility, Connective Industries and Automotive Systems. Driven by green, digital, and innovation, we aim for growth through collaboration with our customers. The company's consolidated revenues for fiscal year 2021 (ended March 31, 2022) totaled 10,264.6 billion yen ($84,136 million USD), with 853 consolidated subsidiaries and approximately 370,000 employees worldwide. For more information on Hitachi, please visit the company's website at https://www.hitachi.com.