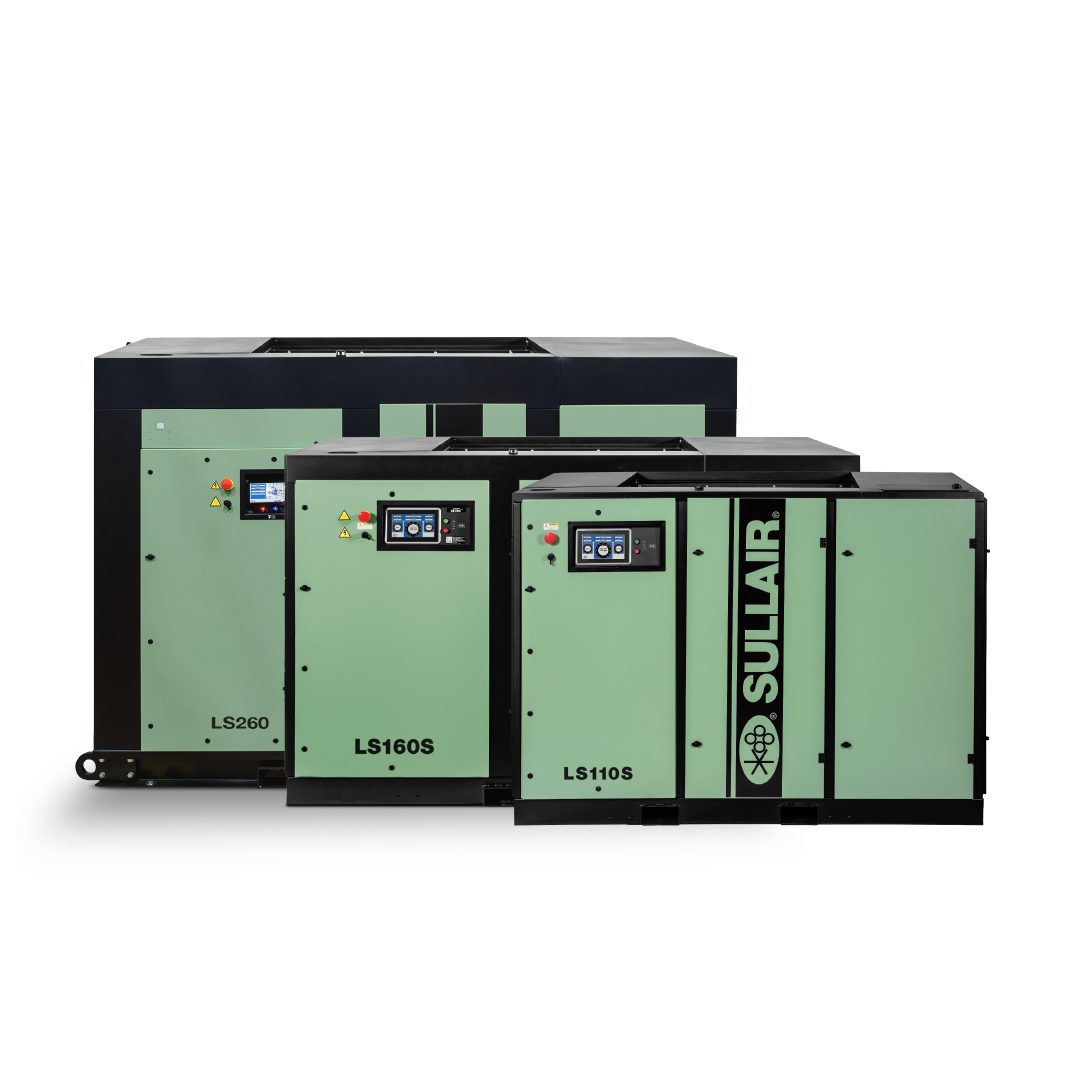 MICHIGAN CITY, INDIANA (MARCH 23, 2023) – Sullair, an industry leader in innovative compressed air solutions since 1965, announced the expansion of the popular and highly efficient LS Series lubricated rotary screw industrial air compressors with the release of higher powered LS190-260 Series models.
Building on the legacy and design of the original LS90-160 (90-160 kilowatt) compressors, the expanded LS190-260 Series brings 190-260 kilowatts of compressed air power with the same features customers have come to expect. All LS models feature a redesigned, highly efficient single stage air end, machined in Michigan City. and optional Sullair-exclusive Electronic Spiral Valve Technology that helps match compressed air supply to demand. Added features include the easy-to-use 10" color touch screen controller, super premium TEFC motor (fixed speed and Electronic Spiral Valve models) and easy-to-service design. Like earlier models the LS190-260 Series offers customers lower total cost of ownership while being easily serviceable. And the robust Sullair Touch Screen controller provides the ability to sequence up to 16 compressors, providing ultimate control and flexibility.
"The LS190-260 Series was designed and built based on direct customer feedback and demand," said Peter Modrow, Sullair Senior Product Manager. "Our customers have been anxiously waiting for a higher-powered LS Series compressor and we are thrilled to bring this next generation to market."
The Sullair LS190-260 Series air compressors are used in general manufacturing, steel production, power generation, mining and more.
The LS Series will be featured at the Sullair and Hitachi stand #D44 during the 2023 ComVac exhibition in Hannover, Germany April 17-21, 2023.
Read More:
Compressed Air Best Practices (page 45)
About Sullair
Since 1965, Sullair has developed and manufactured air compressors with proven reliability and wear-free durability. Sullair is globally recognized as a leading manufacturer of air compressors for use in manufacturing, oil and gas operations, food processing, construction and more. Sullair has manufacturing capabilities in Michigan City, Indiana; Suzhou, China; and a JV (IHI-Sullair) based in Suzhou. For more information, visit www.sullair.com. Sullair is a Hitachi Group Company.
About Hitachi, Ltd.
Hitachi drives Social Innovation Business, creating a sustainable society with data and technology. We will solve customers' and society's challenges with Lumada solutions leveraging IT, OT (Operational Technology) and products, under the business structure of Digital Systems & Services, Green Energy & Mobility, Connective Industries and Automotive Systems. Driven by green, digital, and innovation, we aim for growth through collaboration with our customers. The company's consolidated revenues for fiscal year 2021 (ended March 31, 2022) totaled 10,264.6 billion yen ($84,136 billion USD), with 853 consolidated subsidiaries and approximately 370,000 employees worldwide. For more information on Hitachi, please visit the company's website at https://www.hitachi.com.