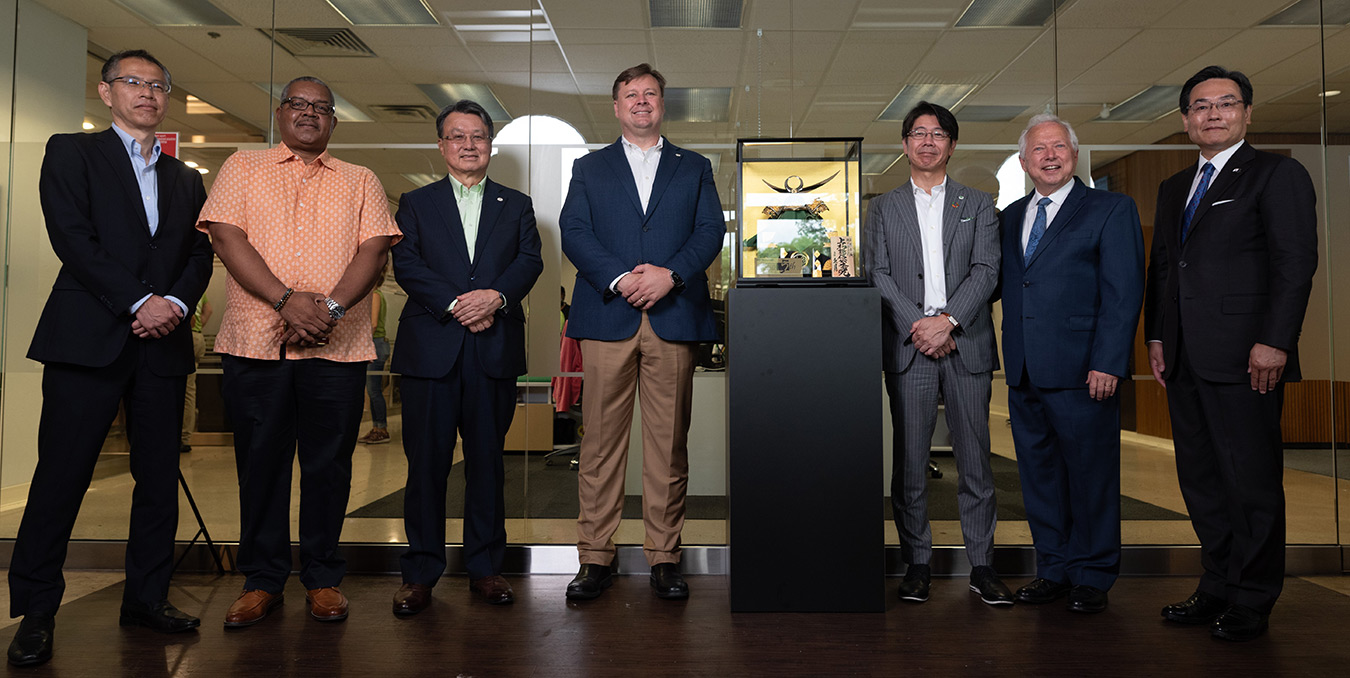 Sullair, an industry leader in innovative compressed air solutions since 1965, commemorated its 5-year anniversary of becoming a Hitachi Group Company with a company picnic and tree planting.
Hitachi is a leading multinational company in engineering, electronics, transportation, and industrial systems. The Company acquired Sullair as part of the Hitachi Industrial Equipment & Systems group in July 2017 to complement its existing compressed air capabilities and gain a larger footprint in the North and South America regions. Since the acquisition, Hitachi has invested more than $45 million in Sullair, mostly in the Company's Michigan City facility. Investments include a large manufacturing process expansion that created more than two dozen full-time jobs and other localized investments that helped propel the Company's overall growth.
"Hitachi is a world-class, innovative and values-driven organization," said John Randall, President and CEO, Sullair. "Joining a company of this caliber and capability has been extremely positive for Sullair, not only because of the direct investments Hitachi has made in our business, but the Company's promotion of Social Innovation Business - a strategy that seeks to improve the lives of people in our community and around the world. Operating under this forward-looking cause makes now an exciting time to be at Sullair and an exciting time to be a Hitachi Group Company."
Sullair observed the anniversary on August 8 with an all-employee event. While the threat of severe weather moved the celebration indoors, in attendance were Hitachi executives from the Company's headquarters in Tokyo, Japan; the Consulate-General of Japan in Chicago, Hiroshi Tajima; Michigan City Mayor, Duane Parry; and Executive Director Clarence Hulse of the Economic Development Center of Michigan City (EDCMC). During a brief presentation, Mayor Parry presented Sullair with a Proclamation declaring August 8 Sullair Appreciation Day in Michigan City.
Following the presentation, Sullair and Hitachi executives planted a Cherry Blossom Tree to commemorate the joining of the two companies. Hitachi executives then presented Sullair with a Kabuto, or warrior's helmet, to display in the Sullair Michigan City headquarters lobby. The Kabuto symbolizes courage and good health in Japanese culture.
The celebration was capped by an indoor picnic where employees, donned in Sullair green anniversary t-shirts, and guests were treated to barbecue and sweets.
"Since becoming a Hitachi Group Company we have realized a lot of opportunities," said Kyle Sanders, Director IT Services who attended the anniversary celebration. "Sullair has always been a great place to work, but with the backing of Hitachi we are growing and changing in new and exciting ways."
About Sullair
Since 1965, Sullair has developed and manufactured air compressors with proven reliability and wear-free durability. Sullair is globally recognized as a leading manufacturer of air compressors for use in manufacturing, oil and gas operations, food processing, construction and more. Sullair has manufacturing capabilities in Michigan City, Indiana; Suzhou, China; and a JV (IHI-Sullair) based in Suzhou. Sullair is a Hitachi Group Company.
About Hitachi, Ltd.
Hitachi drives Social Innovation Business, creating a sustainable society with data and technology. We will solve customers' and society's challenges with Lumada solutions leveraging IT, OT (Operational Technology) and products, under the business structure of Digital Systems & Services, Green Energy & Mobility, Connective Industries and Automotive Systems. Driven by green, digital, and innovation, we aim for growth through collaboration with our customers. The company's consolidated revenues for fiscal year 2021 (ended March 31, 2022) totaled 10,264.6 billion yen ($84,136 billion USD), with 853 consolidated subsidiaries and approximately 370,000 employees worldwide. For more information on Hitachi, please visit the company's website at https://www.hitachi.com.
Read more coverage in: