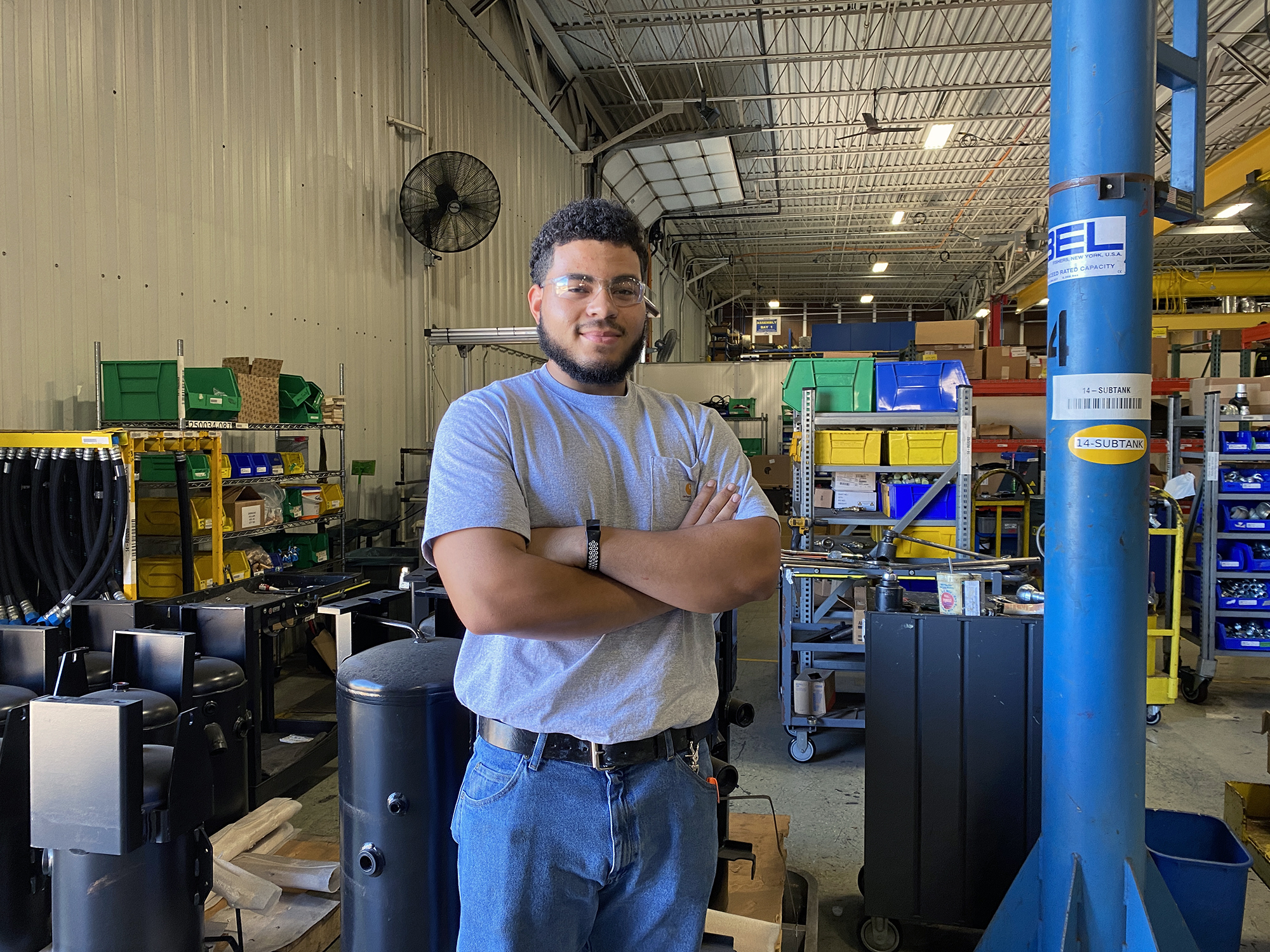 Sullair, an industry leader in innovative compressed air solutions since 1965, today announced it has hired its first two Michigan City High School Compressed Air Academy graduates. Drake Adams and Matthew Ramirez were hired at Sullair for its Summer Assembly Program.
The Sullair Summer Assembly Program addresses the need for additional assemblers to meet the company's increased production needs on both the portable and industrial air compressor lines. The 90-day program offers high-paying roles and hands-on experience to high school graduates, college students, and mechanically inclined professionals alike. Sullair has hired more than 20 total employees for the program.
Adams, who joined in mid-June, and Ramirez, who joined mid-July, are using their hands-on experience from the two-year Compressed Air Academy program at Michigan City High School in real life.
"The Compressed Air Academy gave me great insight into the things we do at Sullair each day," said Adams, who works on the small and medium portables line. "The program was instrumental to me being able to step in and quickly make an impact. The Summer Assembly Program is a great job to get right out of high school and a nice way to get my feet wet."
Adams plans to become an electrician and will begin his apprenticeship this fall. Ramirez will attend Purdue University Northwest this fall, majoring in civil engineering.
In 2018, Sullair partnered with Michigan City Area Schools to develop the Compressed Air Academy, a first-of-its-kind in the nation. Sullair donated a ShopTek® industrial air compressor, which is installed at Michigan City High School. Throughout the two-year program, high school juniors and seniors learn the ins and outs of air compressors, including operation, troubleshooting, and repair. The regional workforce and local employers like Sullair benefit from industry-specific credentials and work experience.
"The Compressed Air Academy is an important initiative for Sullair," said Brian Tylisz, Senior Vice President of Sales, Americas, for Sullair. "Today's tight labor market reinforces how critical it is to form these community partnerships and create career pathways while students are still in school. It's a win-win situation, and we hope Drake and Matt are the first of many who work for Sullair."
In addition to the Compressed Air Academy, Sullair also works closely with the AK Smith Career Center, which works hand-in-hand with Michigan City High School. Josh Cummings, who is enrolled in the Modern Machine Technology program at AK Smith Career Center, is also a part of the Sullair Summer Assembly Program. Cummings, who will graduate in 2022, has been involved in the Michigan City Robotics Club for two years and has also taken three years of Japanese. As the assembly position is his first job, Cummings adjusted quickly to the 5:00 am work schedule and used his blueprint reading and computer skills to be a reliable, contributing assembler.
Cummings will complete the Summer Assembly Program in late July, and Adams and Ramirez will wrap up in late August.
Read more coverage in:
LaPorte County Herald Dispatch
Northwest Indiana Business Magazine
The Times