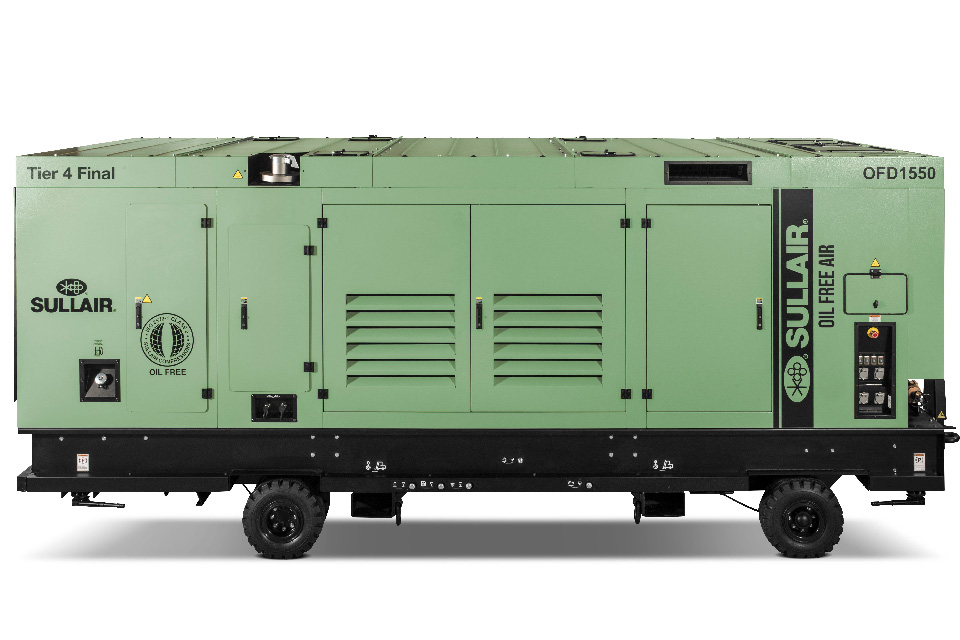 Plant Engineering magazine has selected the Sullair OFD1550 portable oil free rotary screw air compressor as a 2018 Product of the Year Finalist. 2018 is the 31st year of the Plant Engineering Product of the Year award program, which allows readers the opportunity to select outstanding new products to help them do their jobs smarter, safer, more efficiently and more productively.
"We are honored the OFD1550 is named a Product of the Year Finalist," said Friedmar Rumpel, Global Vice President of Product and Program Management at Sullair. "As Sullair continues to execute the expansion of its oil free air portfolio, we identified a growing need in the marketplace for back-up oil free air. The engineering completed on the OFD1550 has resulted in a truly innovative air flow package design to provide optimal performance and cooling under various load and ambient situations."
First introduced in February 2018, the OFD1550 is yet another solution in the ever-expanding Sullair oil free portfolio. As more customers seek options for sensitive compressed air needs – including pharmaceuticals, food and beverage, electronics and more – products are needed for dedicated oil free plant air and back-up oil free air. 
The OFD1550 is packed with features to help ensure versatile operations and maximum uptime, such as a full color 7" Sullair Touch Screen controller; Sullair AirLinx® remote monitoring and telematics; a refinery package offering; and a Cold Weather Package.
Plant Engineering Product of the Year finalists are announced November 8, 2018, and qualified subscribers can vote here through January 4, 2019. Award winners are announced on Plant Engineering's website on April 9, 2019, and listed in the publication's May 2019 issue.
Sullair has previously been honored with Product of the Year awards in 2006 (S-energy®); 2008 (EES®); 2009 (TS20); 2012 (E900 – Silver Award); and 2017 (LS Series – Silver Award).