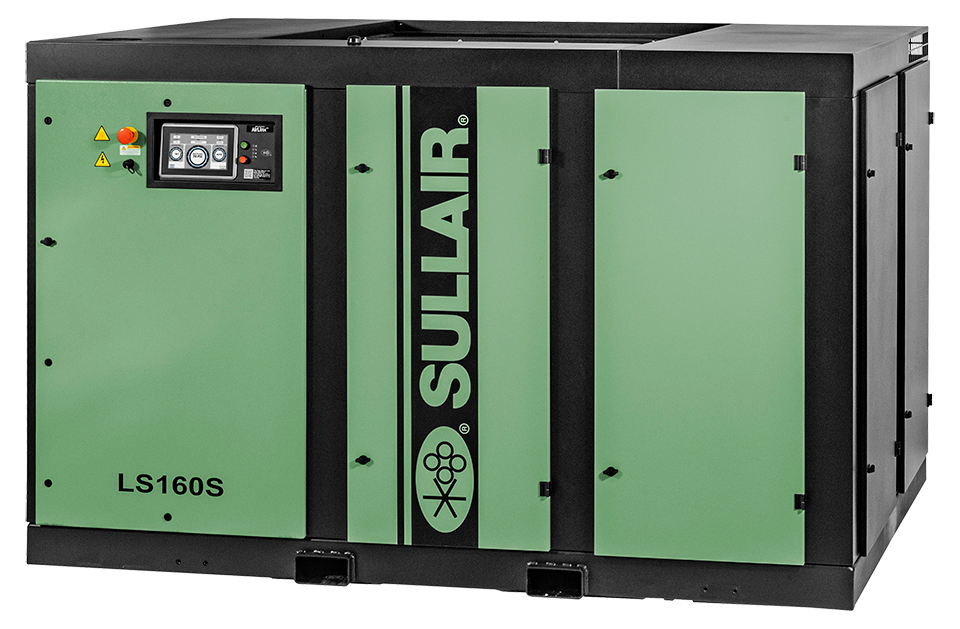 Sullair, an industry leader in innovative compressed air solutions since 1965, announced the launch of the LS160 oil-flooded rotary screw air compressor. The LS160 expands the innovation and performance of the Sullair LS series – first introduced in 2017 – to the next horsepower range, delivering 200 hp and 160 kW. The Sullair LS Series now includes offerings from 125-200 hp and 90-160 kW.
"The LS Series has been one of the most well-received stationary products in decades for Sullair," said Friedmar Rumpel, Global VP, Product and Program Management. "With unprecedented ease of use and performance, the LS Series has set the stage for 'Sullair – The Next Half Century' and redefined our new product development."
The LS160 offers improved efficiency through its new, patent-pending air end design. The air end takes proven bearing technology and combines it with a new, larger rotor profile. Additionally, the new air end features all internal porting meaning fewer components are needed, which helps increase durability.
"The air end in the LS series was designed to maintain the Sullair legacy of durability and increase maximum efficiency," said John Randall, Vice President of Global Engineering. "The LS Series leads its category in efficiency and is expected to be the most efficient 200 hp oil-flooded rotary screw air compressor Sullair has ever offered."
In many applications, such as packaging, an air compressor must be able to quickly adapt. The Sullair LS Series is the first to offer Electronic Spiral Valve technology in all models. With electronic precision and control, the Electric Spiral Valve technology now more tightly matches supply to system demand.
The LS160 also offers Sullair AirLinx® Remote Monitoring. AirLinx provides customers the opportunity to monitor all operational parameters in real time via computer, tablet or phone. Aside from the ability to monitor operations, AirLinx may also be customized to provide automatic alerts when an unexpected reading or fault occurs. This speed‐to‐alert helps users minimize unplanned downtime.
Other features included in the Sullair LS160 are a full enclosure, TEFC motor, Wye‐Delta starter, phase monitor and zero loss drain. Additionally, the LS Series provides numerous options to help customers meet their specific compressor needs.
To learn more about the LS Series and other Sullair stationary product offerings, visit booth E-7759 at Pack Expo International or view the Sullair stationary products page.