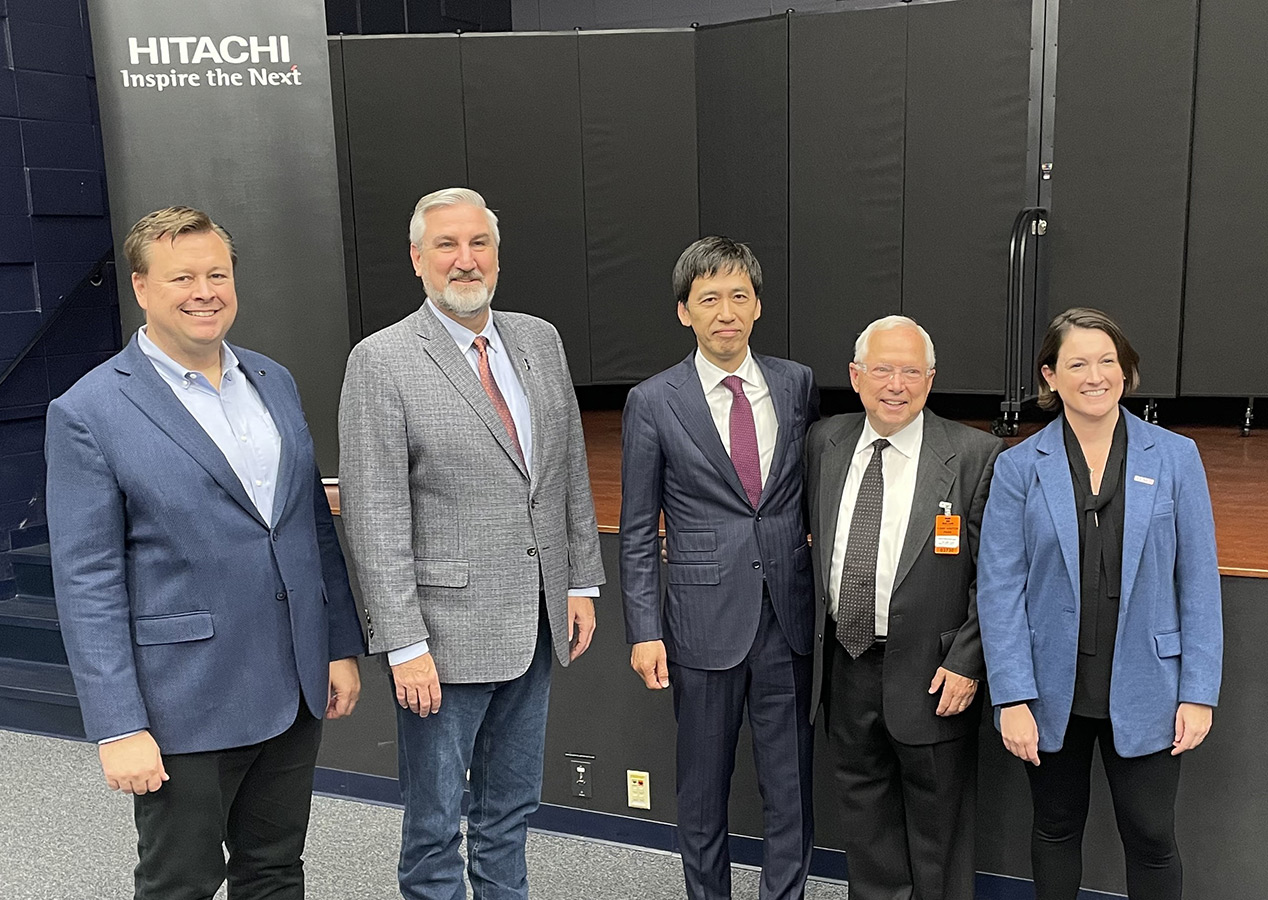 MICHIGAN CITY, IND. (October 2, 2023) — Hitachi Global Air Power US, LLC, an industry leader in innovative compressed air solutions, in partnership with the Association of Equipment Manufacturers (AEM), hosted Indiana Governor Eric Holcomb at the company's Michigan City facility. Through its I Make America national grassroots program, AEM works with equipment manufacturers to host elected officials on shop floors across the country, highlighting our policy priorities and advocating for the industry's 2.3 million men and women.
Hitachi Global Air Power, a global leader in the compressed air solutions, employs over 500 people in Indiana. Tracing its roots back to 1965, Sullair was acquired by Hitachi, Ltd. in 2017 and renamed Hitachi Global Air Power in 2023. The company continues to manufacture products under the Sullair brand in the familiar "Sullair Green". The acquisition by Hitachi allowed the company to offer more products and services and more effectively leverage Hitachi's innovation pipeline. Hitachi Global Air Power offers portable and industrial air compressors (oil-free and oil-flooded), aftermarket OEM parts, fluids and more.
We are honored to welcome Governor Holcomb to our Michigan City facility, said John Randall, President and CEO of Hitachi Global Air Power. Governor Holcomb's visit underscores the importance of a strong partnership between industry and government in advancing manufacturing in Indiana. We are proud to showcase our world-class manufacturing facility where we have been building Sullair air compressors for more than five decades and we look forward to many more years of shared prosperity for both our business and the thriving Michigan City community.
During the visit, Governor Holcomb met with facility leadership, toured its manufacturing operations, engaged with employees on the shop floor, and discussed issues that impact the industry, including infrastructure investment, workforce development, and U.S. competitiveness.
Hitachi Global Air Power has a long history of manufacturing state-of-the-art air compressors right here in Indiana. Because of Indiana's relentless efforts to lessen tax burdens, streamline government bureaucracy, and support Indiana's business community, companies like Hitachi Global Air Power can continue innovating, manufacturing, and investing in the Hoosier State, said Governor Holcomb. I am so pleased by the work that Hitachi Global Air Power and the Association of Equipment Manufacturers are doing to strengthen U.S. manufacturing and create American jobs.
Equipment manufacturers are proud to support over 138,000 jobs in Indiana and contribute more than $18.2 billion annually to the state economy. Governor Holcomb's efforts to create a business-friendly environment that helps — not hurts — job creators are critically important to the future success of this industry in the state, said Kate Fox Wood, vice president at the Association of Equipment Manufacturers. We are grateful for his leadership and look forward to continue working with him to revitalize American manufacturing.
About Hitachi Global Air Power US, LLC
We build the machines that power industry. We are Hitachi Global Air Power, a leading global industrial compressed air manufacturer. Headquartered in Michigan City, Indiana, our compressed air solutions power manufacturing operations all around the globe; from food and beverage, to pharmaceuticals and computer chips. Our portable compressors provide the air power to build roads and bridges, lay pipelines and aid in oil and gas mining and production.
As part of Hitachi Industrial Equipment Systems Co., Ltd., Hitachi Global Air Power operates ISO 9001 certified factories in Michigan City, Indiana and Suzhou, China, and sales offices strategically located in Europe, Australia, Southeast Asia, and South and Latin America. Through brands Hitachi, Sullair, and Champion (Australia), our machines have provided legendary reliability, durability, and performance for more than 57 years.
Our global network of engineering and quality experts are building next generation, highly efficient and environment-forward compressed air solutions in direct response to customer need.
About Hitachi, Ltd.
Hitachi drives Social Innovation Business, creating a sustainable society through the use of data and technology. We solve customers' and society's challenges with Lumada solutions leveraging IT, OT (Operational Technology) and products. Hitachi operates under the business structure of "Digital Systems & Services" — supporting our customers' digital transformation; "Green Energy & Mobility" — contributing to a decarbonized society through energy and railway systems, and "Connective Industries" — connecting products through digital technology to provide solutions in various industries. Driven by Digital, Green, and Innovation, we aim for growth through co-creation with our customers. The company's consolidated revenues for fiscal year 2022 (ended March 31, 2023) totaled 10,881.1 billion yen, with 696 consolidated subsidiaries and approximately 320,000 employees worldwide. For more information on Hitachi, please visit https://www.hitachi.com.
Read More