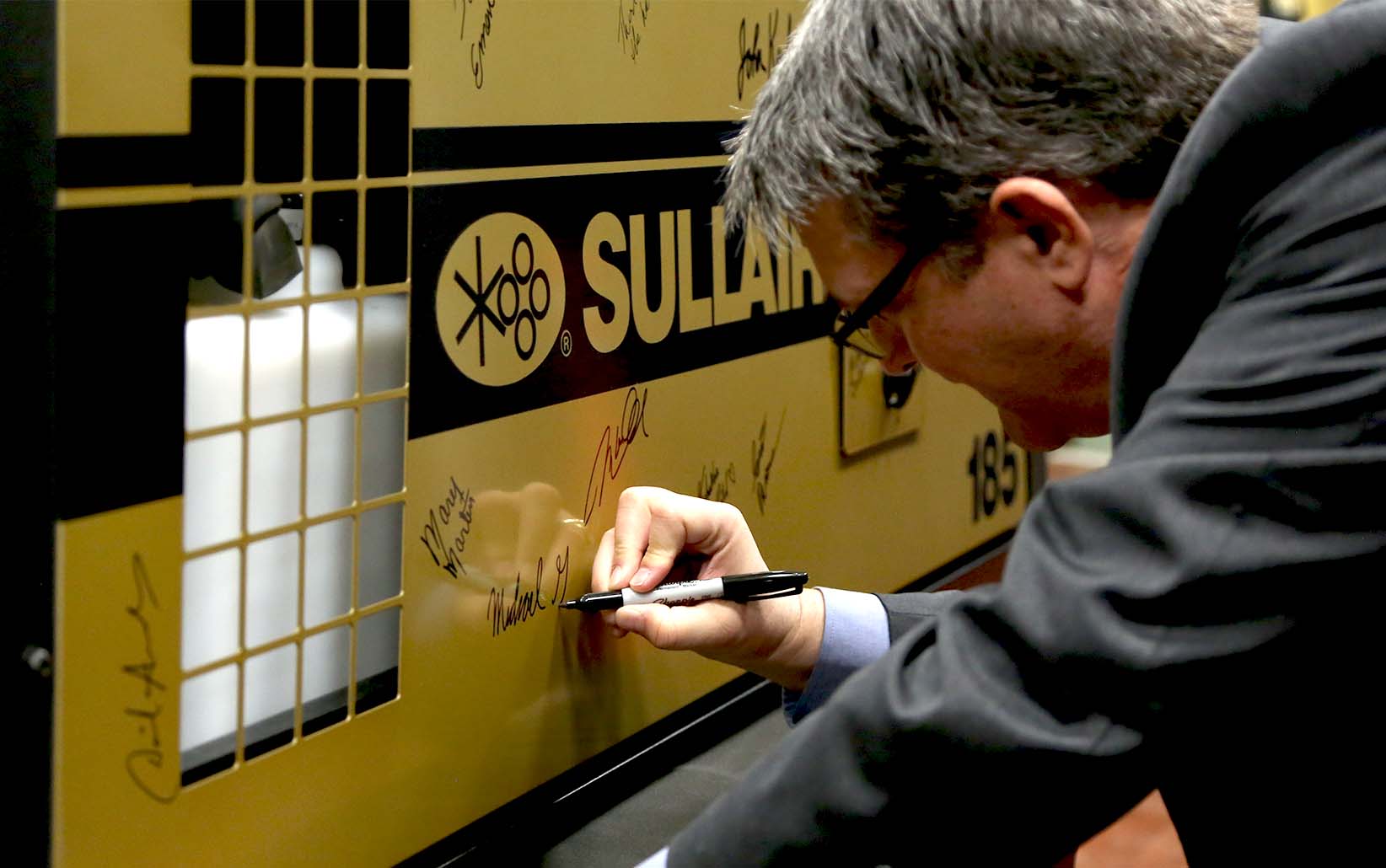 MICHIGAN CITY, Ind. (FEBRUARY 27, 2023) – Sullair today announced its one-of-a-kind, Heart-of-Gold 185 Series Tier 4 Final portable air compressor raised $18,000 in the ARA Foundation Charity Auction. Todd Baumgartner of Aero Rental in Iowa City, Iowa submitted the winning bid at the February 14 auction.
The Heart-of-Gold compressor was created in recognition of February's heart month and is the fifth 185 portable compressor Sullair has donated to the ARA Foundation auction in as many shows. It received the highest bid of any item in this year's auction held during the American Rental Association's (ARA) annual trade show in Orlando, Fla. In addition to raising funds for the ARA Foundation, Sullair is making a separate $10,000 charitable donation to the American Heart Association to support the organization's Hard Hats with Heart campaign. The campaign focuses on the special needs of the construction and manufacturing industries where heart-related illness is higher.
Before the gold compressor was shipped to the ARA Show and Foundation auction, Sullair held a signing event at its Michigan City, Ind. campus. Employees signed the unit with "love notes" in support of those affected by heart disease.
"We have been a Sullair customer for a long time – the reliability and quality is always there and they have just been wonderful compressors over the years," said Aero Rental President, Todd Baumgartner. "We needed a 185 compressor and when we saw this one come up at the ARA Foundation auction, we were excited to make a contribution. The tie in with the American Heart Association was meaningful as well. Heart disease runs in our family and is something we pay a lot of attention to."
Powered by a 49 hp diesel engine, the Sullair Heart-of-Gold portable compressor delivers 185 cfm of air at 100 psi. The gold canopy was manufactured and painted in-house in the Sullair Michigan City-based fabrication shop. Wheel hubs, brackets, and the enclosed toolbox were also outfitted with gold paint for added detail and glitz.
About ARA Foundation
The ARA Foundation provides resources and disaster relief to the rental industry. Programs include scholarships, training, mentorships, and community impact projects.
About American Heart Association – Hard Hats with Heart Campaign
Hard Hats with Heart is an industry-specific initiative from the American Heart Association to improve the cardiovascular health of those working within the construction industry. The campaign's focus is to integrate health, well-being and prevention solutions into the culture of the industry. It brings professionals together from across the construction and health care industries to work together to address the health disparities that exist within the construction industry and to promote job site safety through the life-saving skill of hands-only CPR.
About Sullair
Since 1965, Sullair has developed and manufactured air compressors with proven reliability and wear-free durability. Sullair is globally recognized as a leading manufacturer of air compressors for use in manufacturing, oil and gas operations, food processing, construction and more. Sullair has manufacturing capabilities in Michigan City, Indiana; Suzhou, China; and a JV (IHI-Sullair) based in Suzhou. For more information, visit www.sullair.com. Sullair is a Hitachi Group Company.
About Hitachi, Ltd.
Hitachi drives Social Innovation Business, creating a sustainable society with data and technology. We will solve customers' and society's challenges with Lumada solutions leveraging IT, OT (Operational Technology) and products, under the business structure of Digital Systems & Services, Green Energy & Mobility, Connective Industries and Automotive Systems. Driven by green, digital, and innovation, we aim for growth through collaboration with our customers. The company's consolidated revenues for fiscal year 2021 (ended March 31, 2022) totaled 10,264.6 billion yen ($84,136 billion USD), with 853 consolidated subsidiaries and approximately 370,000 employees worldwide. For more information on Hitachi, please visit the company's website at https://www.hitachi.com.