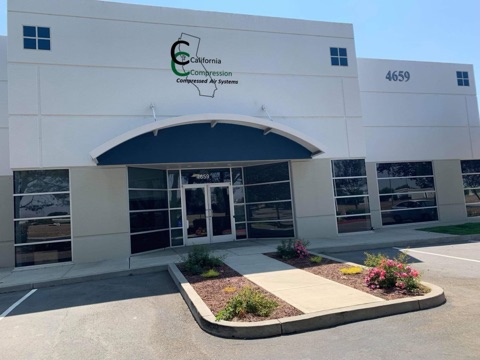 MICHIGAN CITY, INDIANA (FEBRUARY 21, 2023) – Sullair, an industry leader in innovative compressed air solutions since 1965, has acquired compressed air distributors California Compression and CDA Systems. California Compression has served as an independent Sullair distributor since 2017 specializing in the sales and service of compressors and related equipment. CDA Systems provides compressor sales and service and preventive maintenance for compressors, air dryers, and filtration systems. The two companies are co-located in Livermore, California.
"Sullair is committed to building a customer-forward company and providing our customers with a total seamless solution to their compressed air needs," said John Randall, Sullair President and CEO. "California Compression and CDA Systems are well known for their customer service, industry expertise and end-to-end capabilities. Adding these two companies to the Sullair owned-distribution network, allows us to better service the evolving needs of both our current and future customers in the strategic Northern and Central California regions."
The acquisition of California Compression LLC and CDA Systems LLC, subsidiaries of Montreal-based Xebec Adsorption, Inc., is pursuant to a Sale and Investment Solicitation Process established by the Canadian court overseeing Xebec's restructuring proceeding. California Compression, founded in 1975, and CDA Systems, founded in 2009, are co-located at 4659 Las Positas Road, Livermore, California and serve a diverse group of customers in northern and central California including Silicon Valley, in general manufacturing, wine production, mining and more.
All California Compression and CDA Systems employees will remain with their respective companies through the transition and both companies will continue to operate under their original name to help ensure uninterrupted service to customers.
"Our business was founded on putting the customer first which is one of the reasons our distributor partnership with Sullair was so successful," said Scott Gerner, General Manager / Director of Sales at California Compression. "As we become a permanent member of the Sullair family we will have even more tools and capabilities at our fingertips to continue to provide the personalized and expert service our customers have come to expect."
Contact
Jennifer Ohlinger
Sullair, LLC
219-210-0995
jennifer.ohlinger@sullair.com
About Sullair
Since 1965, Sullair has developed and manufactured air compressors with proven reliability and wear-free durability. Sullair is globally recognized as a leading manufacturer of air compressors for use in manufacturing, oil and gas operations, food processing, construction and more. Sullair has manufacturing capabilities in Michigan City, Indiana; Suzhou, China; and a JV (IHI-Sullair) based in Suzhou. For more information, visit www.sullair.com. Sullair is a Hitachi Group Company.
About Hitachi, Ltd.
Hitachi drives Social Innovation Business, creating a sustainable society with data and technology. We will solve customers' and society's challenges with Lumada solutions leveraging IT, OT (Operational Technology) and products, under the business structure of Digital Systems & Services, Green Energy & Mobility, Connective Industries and Automotive Systems. Driven by green, digital, and innovation, we aim for growth through collaboration with our customers. The company's consolidated revenues for fiscal year 2021 (ended March 31, 2022) totaled 10,264.6 billion yen ($84,136 billion USD), with 853 consolidated subsidiaries and approximately 370,000 employees worldwide. For more information on Hitachi, please visit the company's website at https://www.hitachi.com.